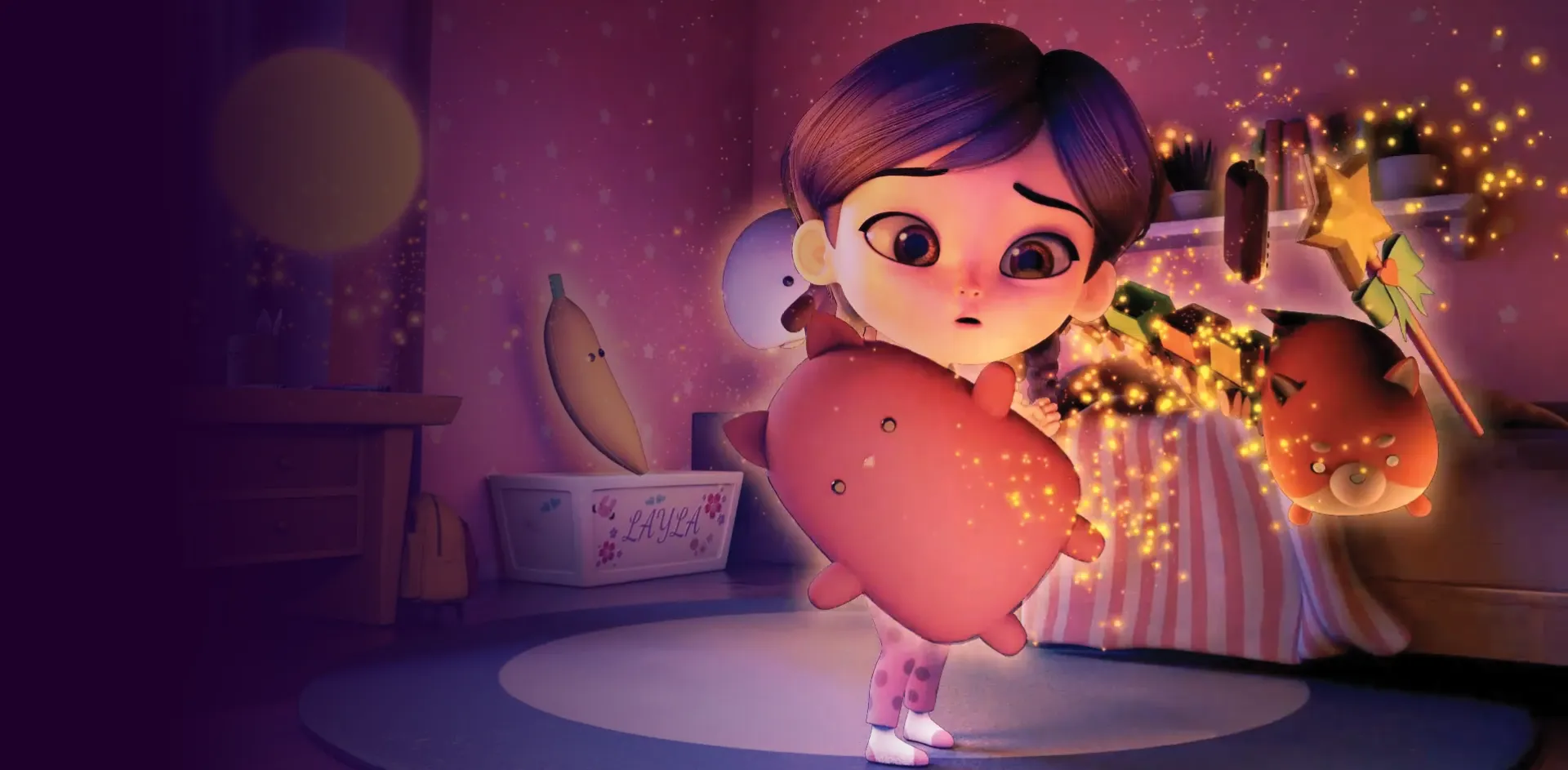 DIPLOMA IN
DIGITAL ANIMATION
with Game Development
KP/JPS (R3/213/4/0289)11/26 (A7675)
Bringing Art to Life Through Storytelling
Digital Animation is the process of creating moving, animated visuals using computer programmes. It is about bringing static images and objects to life through visuals, movement, expression and personality. In this 3-year programme, we offer courses that introduce students to the essential skillsets that are needed in the creation of animation content. This programme is designed to groom students to develop their creative and artistic senses, foster their own ingenious techniques, build their portfolios and reels by instilling various skills that fits the animation industry's requirement. The course focuses on the 3D aspect of animation production, whilst also teaching other traditional crafts on the side to help build a strong foundation. Courses will be taught by professional mentors in an industry-oriented environment to help them gain invaluable insight from top industry leaders. Students are also introduced to multiple paths that the animation industry travels upon while learning all the vital skillsets during our programme. Towards the end of the programme, students will be able to apply all their learnings and skills into creating a full 3D animated short film as their Final Project before graduation, which prepares and leads them to thrive in their chosen career.
Intake
January, April, August
Location
Bandar Sunway Campus, Penang Campus
Accreditation
5-Star College-Based Category
AREA OF
STUDY
Figure Drawing & Concept Design
To possess a good mastery of skills, a strong foundation is a must. Students need to master the foundation in art through practicing figure drawing and concept design. This will enhance their art senses, which will be applied to all other animation subjects. It is crucial to build a strong foundation before approaching to more advanced classes. In this area of study, students will learn about drawing appealing characters, pushing character poses, understanding forms and design, and learning about concept design for artworks.
Visual Storytelling
Animation is a form of storytelling that utilizes different types of visuals to convey a narrative. Students will learn about storytelling through photography, storyboards, animatics, and filming to understand the basics of visual storytelling.
Specialization in Animation or Modelling
Throughout the course of studies, students will need to choose their specialization between Animation or Modelling.
• In Animation, students will learn how to make characters move by animating them in 2D and 3D. They will first master the 12 Animation Principles from our traditional 2D animation subject. Then, they will learn the fundamentals of animation in 3D and apply the 12 Animation Principles into 3D animations. The goal of animation is to bring characters to life, and by specializing in Animation, students will be able to create 3D characters with appealing poses and believable movements. Additionally, students will explore the art of storytelling and acting, delving deeper into these topics and eventually applying them to character animations that are believable and entertaining.
• In Modelling, students will learn how to model objects and characters in 3D. They will apply knowledge from analysis of forms and designs, then translate the 2D concept art into 3D visuals. By mastering software like Autodesk Maya, Adobe Substance 3D Painter and Pixologic ZBrush, students will be able to articulate accurate forms, structures, and materials shading based on their references. They will gradually master the different aspects of 3D modelling – from creating rough blocking models, UV unwrap, applying accurate topology, polishing forms with details, texturing, and to create realistic shaders and lighting as they finish the 3D model with final touches. These skillsets are part of the look development process which students will be mastering in Specialization in Modelling, which will lead them to creating stunning 3D models.
Animation Short Film
Towards the end of the course, students are required to work as a team to create an animated short film. They will be able to apply the knowledge and skillsets they have acquired across all the areas of study mentioned above to create an animated short film. Students will be working as a team, mastering soft skills such as leadership, communication, time management, work organization, work ethic, and many more to learn how to be a team player. Additionally, this project will provide a studio production experience under the guidance of lecturers, allowing students to experience how projects are done in a simulated studio scenario. As a result, students will be prepared and gain a basic understanding of how an animation production works in the industry.
Course Modules
Design Fundamentals
Drawing
Advanced Drawing
Visual Communication
Approaches to Figure Drawing
Perspective Studies
Functional Drawing
Life Figure Drawing
Conceptual Art Development
Concept Art
Introduction to Photography
Visual Storytelling
Digital Video Creation
3D Maya Essentials
Drawn Animation
3D Animation
3D Environment Modelling
Applied Practice in Animation & Modelling
Specialisation in Animation & Modelling
Introduction to Compositing to Editing
Studio for Animation & Modelling
Animation Short Film: Pre-Production, Production and Post-Production
Contextual Courses
Language & Communication Skills
History of Art & Design
Malaysian Studies
Business & Marketing
Survey of S.E.A. Art & Culture
Culture & Humanities
Software
Adobe Photoshop
Adobe Illustrator
Adobe After Effects
Adobe Premiere Pro
Adobe Audition
Adobe Animation
Adobe Lightroom
Adobe Substance 3D Painter
Autodesk Maya
Pixologic ZBrush
Marmoset Toolsbag
Marvelous Designer
Personal Development
Sound Workshop
Rigging Workshop
Advanced Rigging Workshop
Lighting & Compositing Workshop
Team Building Activities
(Note: Subjects offered are subject to change based on the requirements of the Academic Board and MQA.)
ENTRY
REQUIREMENTS
Pass Sijil Pelajaran Malaysia (SPM) with minimum 3 credits (3Cs) including a Pass in Bahasa Melayu and Sejarah; or
Pass Unified Examination Certificate (UEC) with minimum 3 credits (3Bs); or
Pass IGCSE / O-Level with minimum 3 credits (3Cs); or
Pass The One Academy's Certificate in Communication Design OR Certificate from other Institutions of Higher Learning in related field with minimum CGPA 2.00; or
Pass Sijil Kemahiran Malaysia (SKM) Level 3 in art & design field (subject to internal assessment process); or
Other equivalent qualifications recognized by the Malaysian Government; AND
Pass Portfolio Review or Drawing Test conducted by The One Academy for candidate who does not have a Pass in Art subject or without an art subject at SPM level or its equivalent
Explore the complete list of Entry Requirements for domestic and international students here
CAREER
OPPORTUNITIES
The Global 3D Animation Market is Expected to Be Worth US$27 Billion by 2026
*source: statista.com
Animation Houses / Studios
Film Production Studios
TV Production Studios
Game Production Studios
Digital Design Studios
Software Design Studios
Education Digital Media Studios
Advertising Firms
Research & Development Firms
Television Broadcast Industry
Freelance Artist
Your Own Animation Studio
3D Animator
2D Animator
3D Environment Modeller
3D Character Modeller
Rigger
Lighting & Shading Artist
Technical Artist
Generalist
Storyboard Artist
Concept Artist
Video Editor / Compositor
Director
Producer
Production Manager
Production Assistant
Photographer
Videographer
Teacher / Lecturer / Tutor / Researcher
OFFICIAL
ACADEMIC PARTNER
The One Academy is an Academic Partner of Unreal Engine in Malaysia. The world's most advanced real-time 3D creation tool, Unreal Engine enables game developers and creators access to bring real-time 3D content to life for groundbreaking photoreal visuals and immersive experiences. Unreal Engine prepares students with the skills needed to succeed in game development, architecture, film and TV, automotive, simulation and more through Game Design, Motion Capture, Virtual Production and Immersive Reality.

The One Academy is also an Academic Partner of Fox Renderfarm – a leading cloud rendering service provider in the industry providing TPN-Accredited CPU/GPU cloud rendering services with 24/7 technical support. Since its operation in 2011, it has served more than 200,000 users and top-leading visual effects, animation, architectural visualization and game development studios from over 50 countries or regions, including Academy Awards and multiple awards winners.